Polaris Industries Set to Sell Custom Victory Motorcycle Lapel Pins During Daytona Beach Bike Week
Posted by All About Pins | March 4, 2011 at 3:14pm | Topic: Custom Lapel Pins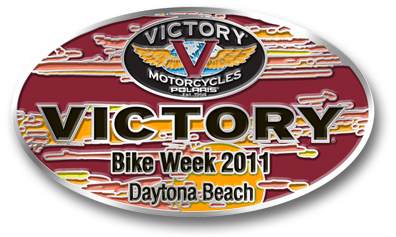 The 2011 Daytona Bike Week, scheduled to take place from March 4
th
-13
th
, is expected to turn out hundreds of thousands of visitors for its 70
th
annual showing.  For motorcycle enthusiasts, this means more bikes to appreciate and a larger crowd to maneuver through. However, for Polaris Industries, the maker of the Victory Motorcycle, this is a huge opportunity to promote the newest addition to its prized motorcycle series using customized biker lapel pins.
Triumph Crowned With Spirit
At Spirit Lake, Iowa, in 1998, the Victory Motorcycle series began its legacy. The first model of the Victory Motorcycle won Cycle World's Cruiser of the Year award in 1999.  Since then the bike manufacturer has continued to produce award winning, stylish and highly demanded motorcycles. The industries' latest creation, the Victory High-Ball,  is due to be available in April 201. The company describes  it not only as being stripped down for the classic riding spirit but also "a bold throwback".  The lapel pins the bike industry leader contracted
All About Pins
to create celebrate the new bike as well as its other popular models.
Custom Logos, Artwork and Text
This oval shaped lapel pin design is just as unique as the Victory Motorcycle itself.  As a matter of fact, the inspiration behind the design details stem from the official Victory logo which can be seen inset at the highest point on the pin. Including the company's official logo in the design is the key to ensuring that it possesses the maximum amount of marketing potential. Aside from the easily recognized Polaris trademark, the bold statement of "Victory" reaffirms the brand while the words "Bike Week 2011, Daytona Beach" announces where the motorcycle maker will be spending its first week of March.
Limited to No One, Perfect for Everyone
Motorcycle manufacturers are not the only group that can benefit from investing in custom biker pins.  Biker clubs use motorcycle lapel pins all year round to celebrate new club inductees, promote their clubs and raise money. 2011 Bike Week presents yet another opportunity for motorcycle clubs to promote their groups and participate in the event's festivities at the same time. When it comes to designing unique quality lapel pins, it does not matter whether you are a leading bike maker or a motorcycle club member. 
All About Pins
provides each and every customer with the same superior level of service, wide assortment of custom design options, high quality production and rapid delivery. Contact our office today to talk to one of our knowledgeable representatives and start your custom lapel pin order.  We can be reached via email at
info@allaboutpins.com
or by calling 1-866-604-9462.